---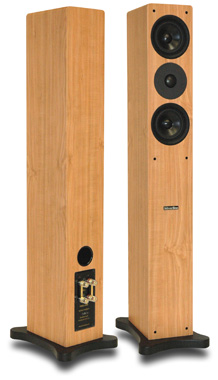 Silverline Audio Prelude Loudspeakers
When people find out that I review audio products, they often want advice about what to buy. On the one hand, I'm happy to help them find something they like and want. On the other, I'm uncomfortable suggesting products at, say, a cocktail party. While there are some products that I think nearly anyone would enjoy without having to break the bank (the Slim Devices Squeezebox comes to mind), there are just too many variables to consider for me to rest easy recommending products without talking with someone in depth. Not only are there the obvious questions about budget, but also about where the system is to be placed (a busy living room? a solitary listening room?), what sort of listening it will be used for (casual? obsessive, audiophiliac "I heard the subway rattling under the orchestra"?), who's going to use it, and so on.
What the breadth of these questions indicates is that there is no single holy grail that all music systems are assembled to attain. Nowadays, the hardest thing for me to recommend is any kind of playback hardware, because more and more people are inclined to store their music on their computers -- and what good is a CD player to someone who no longer buys CDs? The easiest things to recommend, I think, are speakers -- no matter what format people store their music in, the chain must end in a set of speakers. For many music lovers, the Prelude loudspeaker ($1200 USD per pair) from Silverline Audio is likely to serve that need.
Description
The Prelude stands 40" tall but is only 5" wide and 8" deep. I love its tall but compact design, even if its base does have a slightly larger footprint than that. It's perfect for those who have smaller rooms and can't sacrifice floor space to behemoth floorstanders, but don't want to resort to bookshelf speakers. The review pair's nice vinyl finish of simulated dark brown rosewood (cherry vinyl is also available), along with the slim cabinet, will likely generate spousal approval.
The Prelude is a two-way, bass-reflex design with a claimed frequency response of 35Hz-28kHz, a nominal impedance of 8 ohms, and a sensitivity of 91dB. Its single 1" aluminum-magnesium dome tweeter is crossed over at 3.5kHz to two 3.5" aluminum-magnesium mid-woofers; remove the grille and you'll see that the tweeter sits between the woofers in a vertical array in the Prelude's upper half. On the rear, at the bottom of the cabinet, are beefy binding posts that permit biwiring. Directly above the posts is a small bass port.
I was surprised to learn that Silverline speakers are warranted for only 90 days for defective materials, one year for labor. I can't remember reviewing a speaker that had a warranty shorter than three years. On the one hand, it seems reasonable to think that if there's something wrong with a speaker, it's likely to show up soon, if not immediately. On the other hand, $1200 is a significant investment for many people; knowing that you can count on warranty service for years to come might make the price easier to swallow and provide peace of mind. For me, that peace of mind is important.
Listening
I used the Silverline Preludes in two systems. I first paired them with my Rogue Audio Tempest integrated amplifier, connected via Analysis Plus Silver Oval-In interconnects to a Benchmark DAC1 D/A converter that was fed data from a Slim Devices Squeezebox and a Rotel CD-1070 CD player. The two sources were connected to the DAC1 via DH Labs Silver Sonic D-75 digital interconnects; the speaker cables were Analysis Plus Big Silver Ovals.
I also used the Preludes with my B&K AVR-307 receiver and Denon DVD-2900 universal player. The Denon was connected to the B&K with Analysis Plus Solo Crystal Oval interconnects, and the speaker cables were Kimber Kable 4PR. Later, I did more of my critical listening with the Rogue Tempest amplifier, as the general sound seemed slightly more laid-back and liquid; the system driven by the B&K was more up-front. Both sounded enjoyable, but I had to make a choice for the review.
Usually, I'm skeptical about "break-in" -- the idea that the fundamental sound of a speaker or electronics component will improve after a certain amount of use -- if only because it's unclear to me how we could accurately identify such a change by any means other than relying on our aural memories, which are never as good as we think they are. Determining whether the sound has actually changed or whether we're deceiving ourselves into thinking it has changed is a real problem.
In the case of the Silverline Prelude, however, I'm certain their sound changed during my auditioning of them, and for the better. When I first unboxed and set up the Preludes, I wasn't impressed -- they sounded extremely congested, and didn't compare even with a pair of speakers costing much less that I was reviewing at the time. But the owner's manual states clearly that the Preludes need to be broken in, so I went along and, for the next few weeks, used them only for casual listening and TV sound. Then, when I began to listen more critically, the Preludes seemed to have become entirely different speakers. I comfort myself with the fact that because speakers have moving parts, there is a reasonable explanation for how use over time might indeed fundamentally change the sound. As those moving parts loosen up, perhaps sound is affected after all.
Love [CD, Capitol 3 79810 2] consists of original Beatles recordings remixed by producer George Martin and his son, Giles, for a Cirque du Soleil show. If you don't own it already, I say stick with the original albums; Love strikes me as somewhat self-indulgent and showy. If you really need remixed Beatles, try Danger Mouse's Grey Album, which mixes Beatles music with the vocal tracks of Jay-Z -- or dj BC Presents the Beastles, which consists of Beatles/Beastie Boys mash-ups. You won't replace your Beatles albums with them, but they're cleverer than Love. Still, Love's version of "Help!" showed how well the Preludes let all the instruments and voices come through with their own senses of space and detail, uncongested by each other. There was little depth of soundstage, but the guitars and voices were all distinct and enjoyable.
Continuing my '60s revival, I listened to The Freewheelin' Bob Dylan [CD, Columbia CH 90321], which contains two of my favorite songs, "Girl from the North Country" and "Don't Think Twice, It's All Right." On both tracks, Dylan's guitar had the right timbre, and his harmonica, which can sound harsh and unmusical through poor speakers, didn't suffer from being overly bright. I had recently listened to this music with a very expensive system, and while I'm not going to tell you it was just as good through the Preludes, the experience did help illustrate the law of diminishing returns.
Casa, a tribute to Antonio Carlos Jobim by Morelenbaum2/Sakamoto [CD, Sony Classical SK 89982], rarely left my CD player when it was released. Ryuichi Sakamoto's piano came through life-sized, and it was easy on tracks such as "Inutil Paisagem" to hear the varying force with which he hit the keys, especially in the passage that begins close to 3:30 into the song. Paula Morelenbaum's voice was as seductive as ever, and the interplay of her voice and the light cymbal strokes on "Fotografia-Photograph" highlighted the Preludes' ability to depict depth; I heard the cymbals clearly behind and to the left of her voice.
As I was preparing this review, My Life with the Thrill Kill Kult's The Best of TKK [CD, Rykodisc RCD 10694] arrived, filling me with nostalgia for high school and college, when almost all music seemed exciting and fresh. My Life with the Thrill Kill Kult are no longer as interesting as they were then, but their heavy, dance-influenced bass lines and rock-like percussion provided a good test of the Prelude's abilities in the low end. The hypnotic bass in "Sex on Wheelz" was clean and lean, and deeper than I'd imagined these slim towers were capable of. This track has a very busy mix, with guitars, keyboards, voices, percussion, and sound effects all seemingly mixed at the same level, but the Prelude handled it well, the bass remaining predominant. The most impressive part of the speaker's bass was its depth -- I'm sure those who are used to being sold the need for a subwoofer will find it surprising.
Comparison
I pitted the Silverline Preludes against a pair of Quad 21L loudspeakers that have served me well for years. Like the Silverline, the Quad is a small floorstander, but it's wider and shorter, and has a single 6.5" woofer, a 25mm cloth-dome tweeter, a rated sensitivity of 88dB, and an impedance of 6 ohms. The Prelude and 21L are very close in price -- the Quad costs $1300/pair.
The comparison highlighted how speakers can excel at different aspects of musical playback. The Prelude had slightly more detail, especially in the highs and upper midrange, but the Quads threw a deeper soundstage, and the sonic presence seemed more solid. On "Mood Indigo," from Duke Ellington Meets Coleman Hawkins [CD, Impulse! IMPD 162], the Quads' solid imaging gave instruments a sense of physical weight in the room, but the Preludes gave the light cymbal strokes at the beginning of the tune stunning clarity, and Ellington's piano was easily heard under the louder horns as the track progressed.
Although it's a big musical leap from Ellington and Hawkins to Gabriel & Dresden's self-titled CD [Organized Nature ORGNCD001], which gave both pairs of speakers a bass-heavy workout, I ended up with similar impressions. The Silverline highlighted and clarified some high electronic notes in "Tracking Treasure Down" that the Quad downplayed, but the Preludes' overall presentation was more ethereal and seemed to float in the air -- Molly Bancroft's voice, for example, seemed to float in the air. Both speakers' bass performance was good; I wasn't able to find a particular problem in either.
Conclusion
The competition for speakers in the $1000-$1500/pair range is stiff. Philip Beaudette's recent review of the Monitor Audio Silver RS6 made it sound as if that model is a must-hear, and, after years of use, I continue to enjoy my Quad 21Ls. If a speaker is to survive in this range, it has to distinguish itself.
The Silverline Audio Prelude's size makes it ideal for spaces that other speakers would overpower, and it excelled at reproducing the details of every recording I listened to. If I were purchasing speakers in this price range, the Prelude is among the models I'd like to hear before making my decision.
...Eric Hetherington
Price of equipment reviewed
---