---
Pioneer Elite X-Z9 Compact Stereo System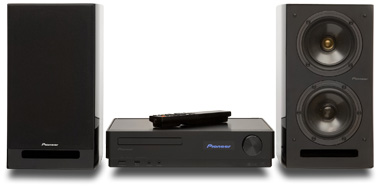 Every once in a while, a product comes along that combines several related ideas or concepts in a single package. One of them is Pioneer's Elite X-Z9 compact stereo system ($1799 USD). The X-Z9's three boxes comprise two exquisite speakers and a handsome control unit that contains a 40Wpc class-D switching amplifier, a more-than-adequate AM/FM tuner, an SACD/CD player, more inputs than your typical audio head might ever use, and enough smarts to know what to do with anything connected to those inputs.
The control unit is a slim box just 15.25"W by 3.5"H by 13.75"D, finished in the typical livery of a Pioneer Elite component: black gloss on the front and sides, with a gold "Elite" logo on the left side of the front panel. The top is finished in a matte black that looks like leather. On the front panel are a large volume knob, the fluorescent display, and the CD tray. Below these, rather hidden away in a recessed area, are the Standby/On switch and 3/8" jacks for stereo input and 3/8" stereo headphone output. The X-Z9 can be controlled from its chunky, comprehensive remote, or via several touch-sensitive switches on the top of the control unit: Function (inputs and more), Play/Pause, Stop, Skip Track. The front panel also includes a hint at further pleasures -- there's a USB port.
Turn the box around for more surprises: a DIN jack for connecting a Sirius satellite radio receiver (which is controlled by the X-Z9), and a mini-USB port for an XM tuner. The X-Z9 is the first I've seen that's designed to work with tuners from both satellite radio services -- very neat.
There's also a connector for an iPod control cable (supplied) that allows you to operate an iPod using the X-Z9's remote, as well as recharge the iPod's battery. The coup de grâce is a LAN port that allows the X-Z9 to be fed by a computer or other networked source.
The X-Z9 will play MP3 (16-bit quantization, 8-48kHz sampling frequency, 8-320kbps bit rate), LPCM (16-, 20-, and 24-bit quantization, 8-44.1kHz sampling), Windows Media (.wma, 16-bit, 8-48kHz sampling, 5-320kbps bit rate), Apple's AAC (16-bit, 32-48kHz sampling, 16-320kbps bit rate), and FLAC (8- or 16-bit, any of six sampling rates from 8 to 48kHz). That covers about 98% of anything you might find on the Internet.
There are traditional analog inputs as well, for a moving-magnet phono cartridge (!), an additional line-in pair with accompanying line outs, and FM and AM antennas. Very-heavy-duty speaker output terminals and a socket for the AC cord complete the rear-panel array. The Loudness contour adds both bass and treble boosts (more of the former than the latter) -- it's not obnoxious, but it's needed only at very low volume levels.
The specs include only scant information about the speakers, but they're gorgeous, finished in a piano black of flawless gloss to complement the control unit. Each has a 5.1" (13cm) plastic-cone woofer and a concentric 5.1" plastic-cone midrange with 1.2" (3cm) metal-dome tweeter -- the tweeter uses the midrange cone as a horn. The concentric mid/tweeter is a Uni-Q design made under license from KEF. For bass reinforcement, there's a rectangular bass-reflex port on the front. Although each speaker measures only 15"H by 9"W by 12"D, they're extremely heavy: 21 pounds each. And while they look identical -- there's no offsetting of drivers, as in "mirror-imaged" pairs -- the speakers are designated "Left" and "Right."
Setup and use
I placed the X-Z9 speakers on 31"-high Sanus stands, which put their tweeters at my seated ear level. While Pioneer includes lengths of nice-looking 16-gauge speaker cable, I used my own 16-gauge; the wire supplied by Pioneer was too short to use in my listening room.
At first, I felt the speakers weren't up to the quality of the main unit. Even after some initial break-in, the treble was not as smooth as I prefer, but they kept improving. As they continued to break in over 20 to 30 hours, they rapidly showed their character. And the fact that they matched so beautifully with one of the most versatile head units I've ever encountered (and the fact that, cosmetically, they can't be surpassed) made them just that much better. Once they were broken in, I put their grillecloths back on with no detriment to their sound.
The X-Z9 amplifier's class-D switching circuit packs a fair amount of power into a small package. Not once during the review period did the receiver become warm to the touch -- a pretty well-buttoned-down design. Kudos to Pioneer. Very nice sound, with power enough for any material and loudness I'd care to try.
A press of the remote control's Sound button grants access to some pre-set equalization curves: Vivid (a bit of boost to the midbass and mid-highs), Exciting (similar, but includes some echo), and Relaxing (which puzzled me: it made many vocalists sound as if they were in the next room). These settings couldn't be engaged when the X-Z9 was playing SACDs, which provides a clue to Pioneer's philosophy: other sources may need some help, but SACDs don't.
One appreciated feature: Any time you hit one of the controls on the X-Z9's top, a microscopic LED momentarily emits a rather eerie bright, white light, letting you know the unit received your command.
The SACD/CD player and its touch controls were delights. Once an SACD was loaded and I'd touched the Play button, there was no lag -- unlike with a typical CD player, the sound began in less than a second. The SACD sound was a bit cleaner and seemed to have a lower noise floor -- the reproduction of the music happened in a truly "black" environment.
Sound
I spent one evening listening to high-bit-rate (160kbps) MP3s and MP2s fed to the X-Z9 from a laptop via USB. As part of the evening's festivities, I engaged one of the X-Z9's unique features: Sound Retriever, a DSP circuit that attempts to clone back in the bits that the MP3 process strips from the music. By and large, it did a great job, boosting the X-Z9's output by about 3dB, and providing more solid bass and silkier highs. I also used Sound Retriever with the signal of a local classical FM station. It seemed to overcome the compression radio stations are forced to use, offering a wider dynamic range, stiffened bass, and extended highs. However, Sound Retriever also made FM hiss a bit more evident, so it's best to use it with only the strongest signals. Overall, however, Sound Retriever was a welcome addition. With some pieces I did turn down the bass slightly, as I felt the bottom end was slightly too prominent.
To try the USB input with another type of file, I dubbed as a .wav file "Belle of the Ball," from Cincinnati pianist Phil DeGreg's 82hundred Brill [CD, Strugglebaby SBD-2302]. The Pioneer X-Z9 recognized and displayed all the folders and files on my USB flash drive. Pretty amazing! Even more amazing was the sound. 82hundred Brill features the wonderful tone of a Bösendorfer concert grand piano; I expected there to be no difference between the CD and the dub on the USB drive, but, lo and behold, the bass of the dub was more solid, and dug more deeply, than did the CD. Perhaps it's the difference between moving parts and no moving parts -- I don't know. I listened with all the DSP options and the Loudness contour off, and with the bass and treble set to flat. I could see buying a few 4GB flash drives, now that they're cheap, and loading them up with music.
I then dubbed a few tunes from my computer's CD drive onto a neighbor's iPod, and plugged the iPod into the X-Z9 via the Pioneer's connection cord. Very slick! It worked without muss, fuss, or bother. The sound was quite solid -- as with the flash drive, the bass was slightly more solid and hearty than from the CDs of the same tracks. Quite satisfactory!
One album I like is Steve Tyrell's Standard Time [Columbia CS 86006], a single-layer SACD-only release that can't be played by a normal CD player. The Pioneer X-Z9 system gave me the first chance I'd had to listen to it. Tyrell, the former A&R director of Dionne Warwick's original label, sings as if he gargles with razor blades, but he's a good stylist with exquisite taste in music, and his instrumental backing here is better than first-rate. It's that accompaniment that took the cake for me -- just wonderful sound, very lifelike. A great treat! The depth was fabulous, and, as some other reviewers have commented about SACD sound, the background was absolutely "black" -- there was no sensation of any sound until the music began.
Pioneer used to make some of the hottest radio tuners around, and the X-Z9 proved that they haven't lost their touch. The AM had good sensitivity and selectivity, but its narrow response fell off above 3.5kHz. That's fairly typical of today's AM tuners, but it's obvious that the X-Z9's CPU interferes with its AM section -- lots of sonics that one wouldn't normally expect.
The FM was quite sensitive, picking up any number of distant stations with no more antenna than the supplied +30" hank of wire. It was a bit more sensitive at the higher frequencies on the tuning dial, but that was probably as much a function of the short antenna as anything else: the higher the frequency, the shorter the wavelength. My only regret is that Pioneer neglected to include an HD Radio tuner in the X-Z9. Had they done so, the X-Z9 might have been called into duty to replace my office system of McIntosh C27 preamp, Carver TFM-15cb amplifier, Sangean HDT-1x tuner, and Celestion 3 speakers. Close, but no cigar. HDR is now a requirement for me: I get 24/7 jazz service from our local public classical station's HD2 channel. The X-Z9 nicely separated FM stations 400kHz apart, and was better than I'd expected at separating those only 200kHz apart, nicely discriminating among 88.3kHz (low-power in Cincinnati), 88.5kHz (directional FM from 35 miles away), and 88.7kHz (directional FM from 15 miles away) -- a trio that many tuners can't separate.
The Way It Is, by Bruce Hornsby and the Range [RCA PCD1-5904], was the first CD I ever bought, and one of the best of the early ones I've heard. "Mandolin Rain" sounded so much better and crisper with Pioneer's Sound Retriever engaged, but it didn't sound bad totally flat, either. The X-Z9 produced good transients from piano, and the mandolin sounded ever so live.
An exemplary exposition of cabaret singing is by the late Pam Bricker and the still-kicking singer-pianist Rick Harris, who were jazz mainstays in Washington, DC. This album brings back all the magic of hearing them live, and the Pioneer proved a great vehicle. I enjoyed "I'm Old-Fashioned," from All the Things You Are [CD, Mad Romance 103], more with flat response than with Sound Retriever, though the DSP circuit did give it some extra kick. The soundstage was fine -- not particularly wide but with excellent depth, the piano, bass, and drums nicely behind the upfront singers.
"One Way Out," from the Allman Brothers Band's Eat a Peach [SACD, Capricorn B0002439-36], is a live recording, and that often means "substandard." But this is one of the best. Gregg Allman's vocals are a bit sibilant, but the instruments have a reality that I don't hear from the LP. And the back-and-forth of Duane Allman's slide guitar and Dickey Betts' fuzz-tone guitar is reproduced in a way my LP system can only hope to approach (I don't have a $50,000 combo of turntable and cartridge). Listening to the SACD through the Pioneer X-Z9, I could hear the 120Hz hum in Gregg's microphone near the end of this song. That noise is buried on my LP -- which is in pristine condition.
Last up was Steve Tyrell's performance of "It Had To Be You," from Standard Time. Again, Tyrell doesn't have a great voice (he reminds me of a slightly less soulful Dr. John), but the arrangement is terrific, and the backing musicians know what they're doing. The track's soundstage isn't particularly deep -- the muted trumpet is pretty much on top of Tyrell -- but other than that, the sound is incredible. The little bit of echo on Tyrell's voice lends a depth his voice alone can't. It's a great recording, and the Pioneer system reproduced it with energy and verve.
Conclusion
Overall, Pioneer has put together a fabulous product in the incredibly versatile Elite X-Z9 compact stereo system. I used it with an iPod, a USB flash drive, a computer (both analog input and USB), its onboard SACD/CD player and tuner, and a turntable. It didn't have quite enough oomph to serve as my main system, but for any other purpose -- second, office, or bedroom system -- it's about as good as they come; all of the criticisms mentioned above can be filed under "nit-picking." With its accompanying speakers, it's smart looking, smart sounding, and just plain smart. If you're in the market for a compact, do-all system, it could be a smart purchase.
...Thom Moon
Price of equipment reviewed
---