February 1, 2010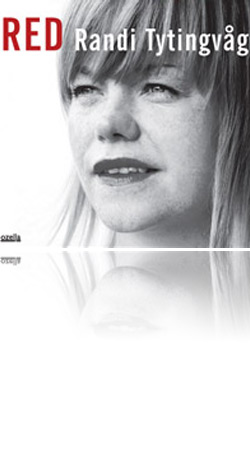 Featured Release: Randi Tytingvåg: Red
Ozella Music OZ 026 CD
Format: CD
| | |
| --- | --- |
| Musical Performance | |
| Sound Quality | |
| Overall Enjoyment | |
Red is Norwegian singer Randi Tytingvåg's third full-length disc (her discography also includes an EP, Beyond Surface). Her dramatic music owes as much to the European cabaret tradition as it does to jazz, which is probably where her discs would be filed in a music store. In truth, Tytingvåg, who wrote all the music on Red except for one song, also embraces tango, show music, and, I'm willing to bet, Norwegian folk music. In other words, she defies easy categorization, proudly and very enjoyably.
"Queen and King" is the closest thing to a straight jazz tune on the disc, but the song's unique instrumentation gives it an unusual feel. Espen Leite's accordion creates a French café atmosphere, while Anders Aarum weaves acoustic and Fender Rhodes piano lines behind him. Jens Fossum's strongly plucked bass lines provide a solid foundation. "Mr. Barn" opens with some interesting sampling from Aarum and an emotional vocal that soon gives way to both tango and Middle Eastern musical elements. Tytingvåg seems to have kept her ears open to every kind of music she's heard and filed it away for later use. Her unique talent is to blend so many varieties of music together without the result sounding contrived.
"My Heart Belongs to Daddy," the Cole Porter tune from 1938, highlights the arranging skills of the musicians (who share the credit in the liner notes) and Tytingvåg's interpretive talents. The baritone sax and pipa (a Chinese stringed instrument) that open the track signal an unusual approach, but Tytingvåg brings things into focus with a witty and sexy vocal. The musicians negotiate the demands of Tytingvåg's songs with skill, but it's her voice that's at the center of Red. She has impressive technical skills, but she's also emotionally engaging and honest. And she's a charming lyricist (all in English, by the way) who writes about love's joys and difficulties with a clear eye and a poetic ear.
"RED or Dead," the track that opens the disc, is another good example of how Tytingvåg and her band bring her good ideas to life. The song begins as a jazz ballad and then transforms as odd string instruments and the accordion weave together a tapestry of music that defies categorization -- German cabaret here, show tunes there, and then a hint of something exotic and Asian. After a while it seems foolish to worry about Tytingvåg's influences. It makes more sense to enjoy the purity of her singing and the instrumental flourishes, such as Anders Aarum's Fender Rhodes on "King and Queen" and Leite's accordion work throughout the disc.
Red is vibrantly recorded, and it presents Tytingvåg's voice with startling clarity. You can hear the timbres of each instrument, and the recording has a wonderful sense of space. Red is available for MP3 download, but you may have to dig a little to find it on CD. Try her record label's website. You'll want to hear the music on this disc in better-than-MP3 resolution.
. . . Joseph Taylor