---
The Birth of an Atom
The most-talked-about budget-priced loudspeaker of the last ten years is probably Paradigm's Atom. The reason is simple: great sound at a very low price.
I vividly recall the first time I encountered this pint-sized legend. It was during a factory tour of Paradigm with another SoundStage! Network writer in 1999. As part of that tour, Paradigm had set up up a listening test for us and had placed an Atom in their listening room alongside a floorstanding speaker from another company. As is customary at Paradigm, though, the listening was done blind, meaning the speakers were concealed from view. We only found out what speakers we were listening to after the evaluations were done.
Two of us took the test separately, and our opinions were basically the same. The results, though, were what astonished us. To make a long story short, the Atom, which retailed for less than $200 per pair at the time, cleaned house on the other speaker, which was priced at more than $2000 per pair. Furthermore, the tiny Atom sounded bigger, fuller, and weightier than the floorstanding speaker it was up against. Price and performance don't always correlate, and neither do size and performance. I was in a bit of shock after that test, but I now knew what all the fuss was about with regard to this little speaker.
Flash-forward about seven years to November of 2006. There I was at Paradigm again and with a group of our writers for yet another Paradigm factory tour. Since that tour in 1999, Paradigm's facility has more than doubled in size and can truly be considered state of the art.
Paradigm once again had a listening test set up for us, but not with the Atom or another company's speaker. Instead, it was of three Paradigm speakers, two of the new Monitor models and the other an older Studio product. But the little Atom wasn't left in the cold. No, the factory was bristling with activity. The latest version of the Atom, now called the Atom Monitor, was in full production that day, one day before the release date to the marketplace. Therefore, Atoms were flying off Paradigm's assembly line and being packaged into boxes at an impressive rate. In fact, I suspect that Paradigm makes more Atoms in a day than many other companies make of their own speaker models in a year. That's no real surprise, though: Paradigm is one of the largest speaker manufacturers in North America, and they sell worldwide.
Most impressive, though, was not how many speakers Paradigm makes, but how much of each speaker Paradigm still creates -- all in Canada! At a time when many companies are outsourcing most of, if not all, their production to China, Paradigm still produces most of its speakers, and the parts for them, right in their Toronto, Canada factory. As a result, when the new Atom Monitor says "Made in Canada" on the back, that's not lie, and we have the pictures to prove it in this play-by-play account of the Atom being made. Here's what we saw that day:
At least a dozen small audio companies could fit inside Paradigm's main factory in Toronto. This is only a small corner of their state-of-the-art 235,000-square-foot facility.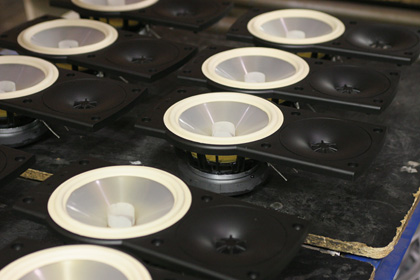 What's most impressive for audio enthusiasts, though, is not the size of the facility but what goes on inside. Paradigm has all the necessary equipment for creating almost every part of a loudspeaker, including baffles and cones...
...as well as voice coils. Paradigm even creates the parts for the speaker grilles and binding posts. The reason for this is pretty simple: quality and consistency. By making everything in-house, the company can ensure that each part is made to exact specifications.
Not surprisingly, Paradigm has a full woodworking shop on premises. All the cutting is hyper-precise using CNC machinery, so that the cabinets neatly fold up and are glued to keep their shape. However, Atom cabinets are not assembled by hand any longer. Instead...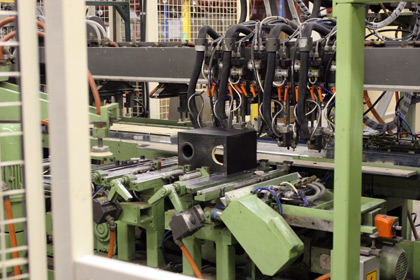 ...a sophisticated (and expensive!) robotic machine puts the cabinets together. Watching it cycle through Atom after Atom is impressive; however...
...the baffle with drivers and the crossover components are still installed by hand as each Atom cabinet makes its way down the assembly line.
After the Atom is finished, each speaker is acoustically tested against a reference speaker to ensure that it's performing within spec. If not, it doesn't make it any farther down the line. After that test...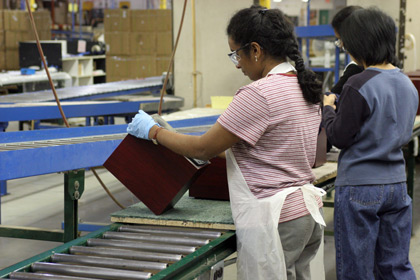 ...each speaker is visually inspected to ensure that it's defect-free.
Providing that the Atom passes its tests, it's wrapped in plastic and...
...boxed up. It's then ready for retailers and, of course, consumers.
The birth of an Atom shows that Paradigm has in-house manufacturing resources that few speaker companies can match. These allow Paradigm to produce high-quality speakers that they can offer to consumers at low prices, a hallmark of the company for almost 30 years.
The new Atom Monitor retails for $249 USD per pair and is available in a variety of finishes. Look for a full review on GoodSound! in February.
...Doug Schneider
To learn more about Paradigm, visit www.paradigm.com.
---