---
Getting Started in Analog . . . Again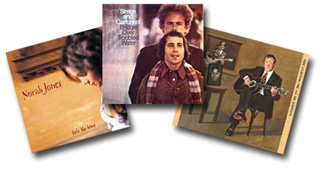 Tired of buying used? Classic Records offers these as well as other well-known titles as brand-new, high-quality viny pressings.
The whole thing started with my local public radio station's annual Recycled Music Sale, where listeners can pick up old LPs for a dollar apiece. CDs, which are in short supply, go for four dollars a pop. I'd attended previous Recycled sales but had never bought much because I didn't have a turntable. This year I decided to correct that situation.
The idea was to build a library of music I wouldn't have bought otherwise -- stuff I would never spend $10 to $20 on because I knew nothing about it. The goal was to keep the average cost per album at or below a dollar. But what to play it on?
Years ago, I had a nice AR turntable with a decent cartridge. That would've made a terrific source component for my newfound vinyl, but, alas, my ex gave it away years ago when I didn't have a place for it. I went looking for a direct replacement but discovered that good used examples were going for between $200 and $500. Eek! No, I was looking for a cheap turntable. Besides, that seemed an awful lot to pay for a 'table that 20 years ago cost only $300!
I looked around at new turntables, and there were a few that didn't look too bad in the $150-$300 range, but this was still more than I wanted to spend -- after all, I didn't know how well my little experiment would work out. I looked around on Audiogon.com and AudioWeb.com, and then, on eBay, came across an old Sanyo direct-drive turntable complete with Shure cartridge for $56 delivered. To this I added an inexpensive phono preamp for $24.
I didn't expect much for $81, but I've been pleasantly surprised. The 'table is in good but not perfect shape. It needed some cleaning, and the dustcover has the scratches to be expected in a 'table this old. The manual cueing lever doesn't work -- it probably just needs a little fluid -- but everything else operates flawlessly. The whole thing emits a fair amount of static through the speakers right up to the point where the stylus hits the disc, after which the noise floor drops well below anything that's audible over the music.
I spent a little time tweaking the Sanyo, getting it level and slightly adjusting the stylus tracking force. After that I settled in for a little music and was stunned at how good the whole setup sounded. Sure, a lot of my Recycled Music records are a little noisy. However, I'm betting that if you were 30 or 40 years old and had never been given a bath, you'd be a little noisy too. Or maybe it would just be the people around you. Either way, vinyl will never be as convenient or as hassle-free as the compact disc. An analog music collection requires regular care and feeding. A preemptive dusting before playing and an occasional wash will help preserve a long, happy relationship with your vintage music collection.
Which brings up another point: You'll need a couple of housekeeping items to add to your system. I use the Hunt EDA brush ($25) for regular dusting and the Allsop Orbitrac 2 wet-clean system ($40) for heavy-duty jobs. It seems that everyone has his or her favorites, but these are inexpensive, require no additional machinery, and are reasonably effective. Some of the records you'll find will be real messes, so be prepared to go through cleaning supplies fairly quickly. I use an older Orbitrac pad for cleaning really grungy records the first time, to preserve the pad I use for regular cleaning. A pack of replacement sleeves for LPs whose original sleeves have split wouldn't be a bad idea either. My little corner of the world includes a used-record store, so you'd think I could've bought all this stuff from them. No such luck. I ended up ordering it all online.
Before I go any further, if you don't already, you should know that many retailers use Goldmine magazine's record-condition rating system, or some version thereof. Knowledge of this system can prove very useful in finding copies of the albums you're looking for in above-average condition. The ratings can be applied to both the record and the jacket, though the rating for the disc itself is obviously more important. Here's how it works:
Mint (M): Perfect. It's never been played and may still be sealed.

Near Mint (NM or M-): Nearly perfect. The record surface should still be shiny and show no obvious signs of wear.

Very Good Plus (VG+): The record will show some wear and may have scuffs or very light scratches that don't affect playback.

Very Good (VG): Surface noise, groove wear, and light scratches will be present.

Good (G), Good Plus (G+): The record will play, but surface noise and heavier scratches will be noticeable.

Poor (P), Fair (F): The record won't play without skipping.
In my opinion, unless a record is something you really want and can't find otherwise, you should forget about anything rated below Very Good or maybe Good Plus.
When the Recycled Music Sale came around, I walked away with 70 albums in various states of preservation. Most are Very Good to Near Mint and all are very playable, but I had to check as I dug through the bins -- some records looked as if they'd been used as Frisbees for the last 30 years. Others looked as if they'd never been played. I picked up a handful of Deutsche Grammophon LPs from the late 1970s that were nearly perfect. I noticed that for records of the same relative age, classical records were generally in the best shape, followed by jazz and blues, and last by rock and country. By the time you get to the last two genres, you may have to search long and hard to find older stuff that's in passable condition.
But I'm not limiting myself to just music-sale finds. I've picked up several good to great albums from used-record stores for anything from $1 to $15. The $15 purchase, the Grateful Dead's Europe '72 three-disc set, was in pretty good shape overall. My wife, a Deadhead from way back, was thrilled. Because I spend a lot of time in Chicago these days, one of my favorite places to shop is the Jazz Record Mart, at the corner of Wabash and Grand, just two blocks off the Magnificent Mile. This is probably one of the best sources in the country for jazz and blues LPs and CDs, with mountains of used records, a handful of new ones, and the deepest collection of jazz on CD that I've seen anywhere. If you love jazz and you're in Chicago, you really need to stop by the Jazz Record Mart and explore the stacks.
My third source has been eBay, and what a source it's been! In a few months I've added to my fledgling collection more than 200 records, in several small lots, for a delivered total price of just under $200. I've set a few rules for myself for purchasing via eBay:
Look closely at the seller's feedback scores to see if they're someone you want to do business with. Bypass anyone with low or no feedback.
Don't tolerate high shipping fees. You have to watch this; some people want $6 per LP to ship via Media Mail, which is robbery.
Look closer at lots where the seller has individually rated every album. I figure if the seller cares enough to rate each album, then I've got a better chance that they'll be in decent shape. So far, this has held mostly true.
Set a dollar limit and stick to it. New lots come up every day; there's no need to buy the first ones you come across.
Be prepared for the fact that a fairly high percentage of what you purchase will turn out to be something you hate. You'll also get the occasional album that isn't in as good condition as was claimed. Because most sellers on eBay inspect records only visually, you have to expect some of this, but most are careful because they don't want negative feedback. Fortunately, the occasional bad record is balanced by others that are in nearly perfect condition.
My little experiment with cheap music has gone much better than I could have hoped for. Of the 300 or so LPs in my newly developed collection, I've found perhaps three dozen that I love and about as many that I hate. The rest fall somewhere in between. The ones I hate have been set aside to be donated to the public radio station for the next Recycled Music Sale. That leaves me with more than 250 LPs for a total cost, including equipment, of less than the purchase price of 30 new CDs. In my book, that's a great deal.
If you've ever thought about getting back into analog, I wholeheartedly recommend it. Plenty of decent, used turntables and LPs are available from a variety of sources, so you won't have to spend a small fortune to get started. My bet is that, somewhere along the way, you'll discover loads of music you would never have heard if you'd had to pay full price for new CDs.
It used to be that you were more likely to find us watching a movie in our spare time than anything else. With the addition of the turntable to our audio system and a constant supply of new music, these days we're more often in the listening room spinning some old Harry James, Junior Wells, or perhaps a little Schubert. When I first started down this path, I wasn't sure that it made any sense at all. Today, I'd call it a no-brainer.
...Jeff Van Dyne
---