---
Home Entertainment 2001
The event
Occupying five floors of the New York Hilton & Towers hotel on the Avenue of the Americas, Home Entertainment 2001 took place May 11-13, 2001. Because of last year's cancellation, predictions for attendance numbers were cautious at best. However, based on the crowds of music lovers packed in the hallways and elevators, the show was a smashing success. Indeed, final attendance numbers were 12,387 visitors to over 200 exhibitors in 80 rooms. Next year's show will be in New York again.
Most 2001 exhibitors (retailers and manufacturers alike) chose to wow reviewers and attendees with their state-of-the-art components rather than more modest and affordable offerings. For your intrepid correspondent, this meant genuine GoodSound! pickings seemed slim. Still, endowed with his long, sharp nose, the mission proved successful.
Your guy really hit the big time when he discovered The World of Headphones exhibit. There, Tyll Hertsens of HeadRoom Corporation had set up the largest display of headphones and headphone amps ever assembled under one roof. Good sound for the short green ruled the day as far as the eye could see. But before we explore Tyll's "World," let's take a look at some tantalizing appetizers that fit the more traditional speaker-based-systems mold.
Choices
Ever price-conscious, Mark Schifter and his partner Walter Liedermann, formerly with Audio Alchemy and now with Perpetual Technologies, introduced the $299 per pair Diva by Swans M200 multimedia speaker. The M200 is a two-way loudspeaker with a 5.25" mid/woofer and a silk dome tweeter. It's finished in black, with walnut cheeks, and, despite its price, is an honest-to-goodness audiophile speaker. It's self-powered, and thus sports a volume control and bass and treble contour knobs. In its chic Euro livery, the high-performance M200 wowed the GoodSound! guy with far better sound than most computer speakers ever dream of. While not as tiny and, consequently, as handicapped as most of the breed, the M200's modest size is just right parked next to a computer monitor. Production models will be available within 90 days, and a review pair is on order. Once they arrive, watch your intrepid reporter turn his working computer into a movie screen or gaming platform.
Gallo Acoustics' Micro system not only looks great, it sounds great. When the Micro was introduced, it proved so popular, the company decided to focus its resources on it, discontinuing the high-end models that pioneered Gallo's unique 330-degree-dispersion CDT tweeter.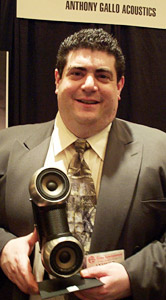 However, rumors persisted that Anthony Gallo and partner Gary Pelled would eventually revive their patented tweeter -- and in NYC, those predictions proved true: The patented "super" tweeter is back. With a projected retail price of approximately $500 each, the Anthony Gallo Acoustics Bravo is finished in black, white or, possibly, also stainless steel. Predicted availability is end of third quarter 2001. At 10.25" long -- or wide, depending on installation -- (a desktop bracket allows its use as computer, bookshelf or television monitor, while custom stands support freestanding audiophile applications) the Bravo sports a next-generation version of the CDT tweeter. The tweeter, which features a tailored 180-degree dispersion from 60Hz to 20kHz, is sandwiched between two Micro spheres. Their driver faces rotate outward along the longitudinal axis. System sensitivity is a remarkable 93.4dB. GoodSound! was promised review units once they become available. Don't play with your marbles until then.
Sony Corporation concentrated their active exhibits on SACD demos, but showed two new DVD players on static display. The Sony DVP-NS700P ($399) sports progressive scan and 480p output, as well as 12-bit/54MHz processors, CD-R/RW playback compatibility and bass management. The downscaled Sony DVP-NS500V ($299) retains CD-R playback capabilities and bass management, but eliminates progressive scan. The Sony CDC-CE775 ($349) is a five-disc multichannel, CD/R-compatible SACD player and will be available in September, while the Sony XE-670 single-disc version ($299) should bow in August.
On the subject of bass management, the folks from Outlaw Audio were perturbed. Early adopters of first-generation DVD and SACD multichannel players had noticed that the absence of proper bass management meant that full-range bass signals were fed to small speakers in all channels, possibly causing damage or, at best, distortion. At $249, the Outlaw ICBM is a slim, one rack-space unit developed jointly with Dolby Laboratories. It offers user-selectable 40/60/80/100/120Hz bass roll-off for the front L/R, front/rear center and surround L/R channels. The ICBM also allows the division of a stereo bass signal.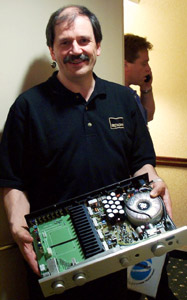 It can even direct bass information simultaneously to both full-range main speakers and one or more subwoofers. A front-mounted LFE control provides up to 10dB of boost, while the rear-panel switch selects between 12dB and 24dB per-octave slopes. The purely analog ICBM will be launched exclusively via the Internet. The campaign starts in July. Look at www.outlawaudio.com and www.av123.com.
High-performance budget brand Creek showed off their "cost-no-object" 5350SE 85Wpc special edition integrated amplifier with full remote. While the Creek 4330 mk2 40Wpc integrated amplifier ($595) is more in line with GoodSound!'s traditional focus, the 5350SE ($1500, shown left) and 75Wpc regular version ($1250) may prove to be stretch-the-purse contenders for top performance. This brand is justly famous for packing a major punch into small, unassuming boxes.
French firm Cairn showed very attractive electronics. A quick glance at their complete line listing revealed that some of their products should find their way into GoodSound!'s coverage shortly. For example, the Cairn DO is a 50Wpc half-sized remote-controlled integrated amp with preamp-out and headphone jack. It retails for $795. The Cairn LOCO is an 80W quarter-size monoblock amp at $395.
Polk Audio's Paul DiComo introduced their new LSi Series of high-end speakers. This line includes six models: the LSi 7and LSi 9 monitors, the LSi 15 and LSi 25 floorstanders with 8" passive or 10" active side-firing woofers respectively, and the LSiC center channel and LSiFX rears. Prices range from $800 to $3000 per pair. This makes the 5.25" two-way Polk Audio LSi7 GoodSound! material. A unique feature common to the entire range is the use of an upscale ring-radiator tweeter normally found on far more expensive loudspeakers. While the show officially unveiled the series, it won't be on dealers' shelves until November. Available finishes are cherry- or ebonized-wood cheeks against black faces.
The British electronics marque Alchemist always had a penchant for stylish but unconventional appearances. Their new AA range is still très chic but not as outré as certain earlier efforts. The Alchemist AA1 80W dual-mono integrated amplifier ($1295), AC1 24/96 CD player ($1195) and -- not shown -- AT1 AM/FM/LW tuner with 51 presets ($995) looked mighty tasty. If their sound follows suit, and our readers express an interest in spending a little extra on appearance, you might soon see reviews of Alchemist AA components in GoodSound!.
Ditto for Odyssey. Based on designs originated by the German Symphonic Line's Rolf Gemein, the Odyssey products are manufactured under license in the US. Smart manufacturing and direct sales allow head honcho Klaus Bunge to sell them for significantly less than their Symphonic Line siblings.
Based on the extraordinary performance of the $3200-for-three-components system demoed, your guy felt strongly that you should at least know about this set-up. Call it GoodSound! Plus priced. The complete Odyssey system heard at the show consisted of: Odyssey Tempest full-function preamp including phono stage ($895); the SoundStage! Reviewers' Choice Odyssey Stratos 150Wpc class-A/AB stereo amp ($995); and a pair of as-yet-prototype and unnamed two-way speakers with Scan Speak drivers (approximately $1295). Add a good CD player and cables and you've got yourself a very serious $4000 system. Don't you hate it when we spend your money so casually?
Paradigm's Mark Aling talked your man through his firm's entire current loudspeaker line-up and handpicked six entry-level models between $149 and $799 per pair for reviews to appear here shortly. He then jokingly referred to the Paradigm Mini Monitor in display Lucite as a new model optimized for see-through transparency.
The GoodSound! Bazaar
As promised earlier, the massive toothache/candy shop convergence of affordable high-performance sound occurred in the HeadRoom "World of Headphones" exhibit. Here your GoodSound! guy experienced aural bliss for $380, via the HeadRoom Total Air Head amplifier ($159), Panasonic SL-CT 580 portable CD player ($99) and a pair of AKG K-401 headphones ($119).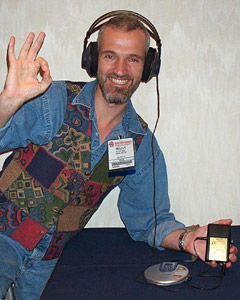 He then spotted famous audio reviewer, jet setter and quad-lingual watch-aficionado Ken Kessler test-driving a prototype of Grado's new entry-level surround sound phones (two additional models will complete this forthcoming surround series). The Grados utilize a large carved-foam earpiece and, via a proprietary Dolby Labs algorithm, serve up multichannel surround sound for late-night solo movie ventures.
Asked for the greatest bang-for-the-buckaroo in cans (studio slang for headphones), HeadRoom big Kahuna Tyll pointed to the Koss Porta Pro Junior phones ($49). Another intrepid showgoer was promised instant Internet immortality if he'd wear them for a quick publicity shot. He eagerly volunteered but we didn't catch his name.
OK, headphones. Why did your man get so excited?
Figure this. Powered from an appropriate amplifier (rather than the ubiquitous op-amp hiding behind the mini jack or 1/4" jack found on receivers, integrated amps or CD players), a good headphone setup will give you high-end sonics at one-fifth to one-tenth the cost of a conventional loudspeaker-based system. That's because regular speakers must contend with room acoustics, placement compromises and greater overall system complexity. Headphones avoid crossovers, phase problems and room boundary reflections. Even cheap portable CD or DVD players can sound awesome when an outboard amp buffers the headphones and prevents them from loading down the source component.
Tyll and compatriots (right) recently discontinued their famous top-line Max headphone amp and, truly bent on one-upping themselves, replaced it with the MadMax (completely dual mono with dual everythings). That's not the real name, but your guy feels that it should be, both for performance and concept. Check out Tyll and partner as the boss gets down to the tunes plugged into his no-hold–barred contender. The MadMax only gets mention here to show how truly dedicated the HeadRoom folks are to superior sound regardless of budget. Whether you have a $249 or $5000 total system budget, they're here to help. Tube or solid state, dynamic or electrostatic, the folks from HeadRoom have it. They've made it a point of honor to be the most complete one-stop shop for all things headphone-related. Their thoroughly impressive "World of Headphones" kicked your GoodSound! guy in the chest like a wild bronc. If rumors are to be trusted, this aural circus might go on actual tour through the US. It would stop in all the major cities to allow music lovers a first-hand sampling of what this on-the-go genre of music systems has to offer. In fact, GoodSound! will soon teleport its writer to HeadRoom's headquarters in Bozeman, Montana. Expect an in-depth report on what's available. Do we even have to mention that we'll score a few cherry-picked source-amp-phones combos for review in the process? $3000 sound for $500? Can't wait.
Final note
The broad variety of sonic flavors on tap in the various rooms of this show proved once again how subjectivity rules in audio. One fellow's ideal is another's irritation. One gal's dream rig turns another's visual nightmare. This wealth of choices makes the entire subject both exciting and confusing. GoodSound! will attempt to describe various component core flavors succinctly enough to help you assemble a short list of products in various budget sectors that might appeal to your personal sensitivities.
---