---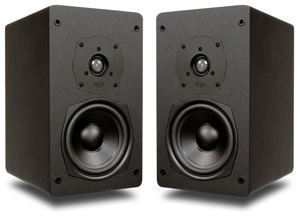 SVS SBS-01 Loudspeakers and PB10-NSD Subwoofer
Reading the SoundStage! Network's CES coverage this year, I was surprised and a little dismayed to see that one of the areas of tremendous growth was in the category of cost-no-object loudspeakers. Some of those models may well be worth their sky-high prices, but I also know that many people, consciously or subconsciously, immediately equate higher price with higher quality. The misperception isn't limited to audio gear; a recent study showed that people believed that universities who charged more for tuition were more desirable, even when there was no other discernible reason for it. So there are good economic reasons for pricing speakers at a gazillion bucks or more: people want them.
At the other end of the price spectrum is the SBS-01 bookshelf speaker from SVS. It costs only $225 USD per pair and is available directly from SVS at their website, www.svsound.com. One common concern of those buying bookshelf speakers is whether or not they'll provide enough bass. Not to worry -- SVS has been making accomplished subwoofers for years. Their PB10-NSD sub perfectly matches the SBS-01, and puts out all the bass you could want for a reasonable $429. The speaker and sub each carry a three-year warranty as well as a 45-day money-back guarantee -- if you want to just audition them, you're out only the shipping costs.
Description
The SBS-01 is a sealed design that measures a compact 12"H by 7"W by 9.5"D and weighs a hefty 11 pounds. SVS's specifications for it include an impedance of 8 ohms, a sensitivity of 85dB, recommended amplification of 20-120W, and a frequency response of 68Hz-20kHz. The rear panel has threaded inserts for a wall bracket, a keyhole insert for mounting the speaker directly on the wall, and adequate, plastic-capped speaker binding posts. More expensive speakers often have beefier, more durable posts, but unless you're unduly rough with your gear or change your speaker cables often, this will have little or no impact on you.
The SBS-01 has a 1" tweeter with a ClearSilk diaphragm, and a 5.25" polypropylene woofer. Both drivers have been customized by SVS to meet their standards. The internally braced cabinet of MDF seemed rock-solid, and its textured vinyl finish is vacuum-formed over the fiberboard, which means there are no visible seams. I'm often dismayed at vinyl-clad speakers -- no matter how good they sound, they often look cheap. Not so the SBS-01: its seamless appearance and rounded corners make it look as if it belongs in a higher price class. I was also happy that SVS has avoided the cheap-looking faux-wood grain of so many inexpensive mass-market speakers. My review pair was black; the SBS-01 is also available in white or silver.
The PB10-NSD, SVS's entry-level subwoofer, measures 19"H by 15"W by 21"D and weighs 60 pounds. It was no easy task getting this sub down to my home theater by myself, but luckily, I regularly work out at a gym. If you don't and need to lug this thing up and down stairs, you should probably get a friend to help you. The sub relies on a proprietary, long-throw, 10" NSD woofer driven by a 300W RMS BASH amplifier, the latter a high-output digital switching device. Because both the cone and port fire to the front, through a 1"-thick baffle, you can place this sub as close to the wall as you like. The 3"-diameter port is above and to the right of the cone.
Along the top of the sub's rear panel are a single RCA input, an Auto On/Off switch, and dials for setting phase and gain. Near the bottom are the power switch and a receptacle for the supplied 8' power cord. The PB10-NSD shares the SBS-01's good looks.
Associated gear
I spent a good deal of time using the SBS-01s in three different systems. First, I used them in my living room, where they were connected to a Rogue Audio Tempest II integrated amplifier by Kimber 4PR speaker cables. The music came from a Slim Devices Squeezebox feeding a Benchmark DAC1 D/A converter via a DH Labs D-75 coaxial digital cable. The Benchmark and Tempest were interconnected with Analysis Plus Silver Oval-Ins.
The PB10-NSD's size meant that it was suitable for only my home theater, which meant that I also used the SBS-01s with my B&K AVR307 receiver and Denon DVD-2900 universal player, with Analysis Plus Silver Oval-In interconnects and Big Silver Oval speaker cables. The PB10-NSD was connected with a DH Labs subwoofer cable. It was this setup that I used when taking notes for this review.
I also used the SBS-01s as computer speakers, feeding a USB signal into a HeadRoom Total BitHead headphone amplifier so that I could use the BitHead as a preamp with an ancient Onkyo amplifier. In this system I used throwaway cables, but the sound was great compared with standard computer speakers. The bass was slightly pronounced, and the imaging was better when I sat away from my desk -- but if you have an old amplifier collecting dust, this $225 investment in computer sound may be well worth it.
Listening
One of my favorite songs from the past year is Of Montreal's "Wraith Pinned to the Mist and Other Games," from their album The Sunlandic Twins [2 CDs, Polyvinyl PRC 088]. The song is driven by an upbeat bass line that the SVS subwoofer brought right into my room, with bass that was both deeper and tighter than I'm used to hearing. The excellence of the SVSes was not limited to low frequencies -- the outputs of sub and speakers integrated to create a seamless soundstage in which the percussion that begins about 30 seconds into "Wraith" hung in the air, far from the speakers. The next track, "Forecast Fascist Future," showed off the SVS speakers' ability to reproduce both electric and acoustic guitars with finesse, and without blurring the multiple instruments into a single sound.
Nightmares on Wax's In a Space Outta Sound [CD, Warp CD 133] has recently been my music to relax to. The SBS-01 gave the percussive snaps of "Passion" real presence, but they were a little more pronounced than I've heard through more expensive systems. This song's mix comprises many tracks all playing at once; I could easily delineate each and every sound through the SBS-01s. One sample, of a female voice, sounds rather indistinct through other inexpensive speakers; with the SBS-01s, I could hear exactly which notes the woman was singing. And the PB10-NSD beautifully rendered this track's lazy bass line.
A Love Supreme, by Wynton Marsalis and the Lincoln Center Jazz Orchestra [CD, Palmetto PM2106], presents an arrangement for large jazz ensemble of John Coltrane's classic suite. The SVS system threw out a very enjoyable sonic picture. Each instrument had the right timbre and could be easily picked out in space and in relation to the other instruments. In general, the speakers seemed to slightly favor the upper midrange, especially when the sub was removed. This was not an unpleasant sound, and if I were listening for pleasure and not reviewing, I wouldn't give it a second thought. But the opening drum solo on "Pursuance" did seem a bit congested, and not laid out in space as clearly as by the more expensive speakers I'm familiar with. Sometimes, more money does buy more speaker.
Because the SVS combo forms the nucleus of 5.1- and 7.1-channel home-theater packages sold by SVS, I also tried it out with some movies. I was preparing a lecture about The Matrix, and played the film with just the SVS trio. I expected to miss the surround soundtrack, but the sound was very involving without it. The movie's most violent scene, toward the end, involves hundreds of bullets fired -- the little SVS bookshelf speakers had shell casings landing all over my room. With a tight budget or a small space, this combo of bookshelf and sub can make a very nice system for music and movies.
Comparing
The fairest comparison I could make with the SBS-01 was with AV123.com's x-ls bookshelf speaker, which I recently reviewed. While AV123's x-series includes a subwoofer, it costs less than half the price of the SVS PB10-NSD, so I limited my comparison to the speakers. The x-ls costs $219/pair, has real-wood veneer, and was named GoodSound!'s Product of the Year for 2006 -- tough competition.
But the SVS SBS-01 was more than ready for the challenge. In my review of the x-ls, I stated that it seemed to prefer moderate listening levels, and that "if you're looking for loud party speakers, these might not be the answer." Well, if you're looking for loud party speakers at this price point, the SBS-01s might be the answer. They held together beautifully, not suffering as the x-ls had when I played them at loud party levels. My son and I had no problem cranking up Rob Zombie's greatest-hits collection, Past, Present & Future [CD, Geffen 0006553], loud enough to annoy my wife three floors away without the sound breaking up or noticeably degrading.
On the other hand, at low listening levels and in direct comparison with the AV123 x-ls, the SBS-01 had a congestion problem that obscured fine details that the x-ls got right. On the classic Duke Ellington & John Coltrane [CD, Impulse! IMPD166], the tenor sax, piano, bass, and drums seemed on top of one another and flat, which was not the case with the x-ls -- or with the SVS speakers when played at higher volumes. If I had to pick one of these pairs of speakers, I'd likely go for the SVS system based solely on the music I've been listening to lately. In a more classical or jazzy frame of mind, I might go the other way.
The PB10-NSD is the best subwoofer I've had in my house. I currently use an Axiom EP175 ($560) in my home theater, which is perfectly adequate, but the SVS had tighter and cleaner bass, and a sense of authority the Axiom lacked. That may well be explained by the difference between the Axiom's 175W amplifier and the SVS's 300W unit. If you're seriously style-conscious, the Axiom may more easily fit your décor. Regardless, next time I need a sub, I think I'll go directly to SVS.
Conclusion
I thoroughly enjoyed my time with the SVS speakers, and continue to use them in my computer setup as I write this. They offered great sound for a reasonable price, and the subwoofer provides all the bass you could want. If you're thinking of moving to a multichannel system, add another pair or two of SBS-01s and SVS's matching SCS-01 center-channel speaker ($185 each) as funds or space permits. For some time, SVS has been known for making great-sounding subwoofers at reasonable prices, and the SBS-01 bookshelf speakers live up to that reputation as well. There are other speakers in this price range that are worth auditioning before making a final decision, but, for many people, these will come out on top.
Reading about those megabuck speakers at CES and writing this review, I kept asking myself: If I were in the market for $45,000/pair speakers, wouldn't I get at least as much pleasure from buying $20,000/pair speakers, and then using what I'd saved to buy 100 of my closest friends pairs of SVS SBS-01s?
...Eric Hetherington
Prices of equipment reviewed
---