---
NuForce IA-7 Integrated Amplifier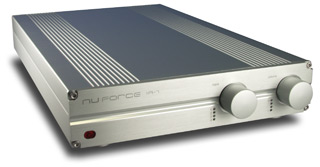 NuForce, a young company based in California and owned and operated by a team of engineers who take amplification seriously, has sent shockwaves through the world of home audio with, following tubes and solid-state, what amounts to the third stage of amplifier technology: the analog switching amplifier. NuForce offers a detailed technical description of their patent-pending technology on their website (www.nuforce.com), and claims their advances can be measured in four significant ways: 1) high bandwidth, with a ruler-flat response from 20Hz to 50kHz; 2) a high damping factor of more than 4000 (damping factor is related to an amp's ability to control a loudspeaker); 3) ultra-low distortion and noise, resulting from a technique of actively canceling distortion at every cycle of operation; and 4) no phase shift, due to a closed-loop design that cancels distortion at the speaker terminals rather than the output filters.
NuForce's IA-7, a 100W integrated switching integrated amp ($1495 USD), is part of the host of products that have been trickled down from technology used in the model that has earned NuForce its fame: the Reference 8 monoblock. In addition to the specs mentioned above, NuForce prides itself on its amps taking up less space and running cooler and quieter than other models in their categories.
Description
The IA-7 is only 8.5" wide by 2" high, but at 16" deep, it's longer than expected, almost as if a standard amp has been turned on its side (the typical amp is about 17" wide). It's light, too: a mere six pounds. There are only two knobs on its face, for volume and input selection, the setting of each indicated by four vertical blue LEDs to the left of the knob. The machined, brushed case of anodized aluminum, with its futuristic lettering and visible corner bolts, gives the impression of progressiveness and forward thinking. The IA-7 is available in silver or gold -- or in unassuming black, like the review sample I was sent. When I took it out of the box, my wife said, "That's it?" And when it was in position on my audio rack, my father asked, "Where is it?" The two blue lights that indicate power and operation aren't enough for the NuForce to call attention to itself.
Around back is the socket for the detachable power cord and the usual pair of five-way speaker binding posts (these are of translucent plastic), two RCA line-level inputs, as well as two 3.5mm stereo line-level inputs (these can be omitted in favor of four sets of RCA inputs; specify when ordering). I suppose the single-plug inputs are useful for connecting an MP3 player or a Tivoli radio as a tuner, but their positions around back aren't particularly convenient. Nor do they justify the absence of a tape loop -- a disappointing trend since the death of the cassette deck. The IA-7 lacks a built-in phono stage and a headphone jack, but its preamplifier-output jacks allow for the possibility of linking it to a separate power amplifier or subwoofer.
The IA-7 is fully remote controlled, and the remote helps offset some of the amp's quirky operation. For example, to turn it on via the front panel, you lightly depress the Input knob. Pressing the Volume knob activates the Mute function. The Volume knob itself takes some getting used to. It turns with an almost infinite number of gradations -- I had to spin it to get any audible response. About eight clicks on the NuForce's remote equaled one click on the remote of my NAD C325BEE integrated. Fortunately, NuForce's remote offers a step feature that lets you make precipitous jumps from one to four by pressing a combination of keys: useful, impressive, and fun.
The IA-7 replaced the NAD C325BEE in my system, and was hooked up to Axiom M22 speakers by 9' runs of Element Cable's Double Run. A Pioneer DV-353 DVD player linked by Monster Cable Interlink 200 interconnects served as the source component.
Listening
I hadn't listened to Elvis Costello's 1993 album with the Brodsky Quartet, The Juliet Letters [CD, Warner Bros. 45180-2], in at least ten years. At the time of its release, it served for the benighted as an interesting crossover to the classical world, and marked the point at which Costello began to train his voice to actually sing, rather than merely sneer and shout. His voice has gotten stronger, richer, and better controlled over the years, but on rediscovering this CD, I could hear that his vocal reach at times exceeded his grasp. The IA-7 tried to help by remaining absolutely noiseless in the quiet passages and as neutral as possible throughout the musical presentation. While not quite rolling off Costello's high note at the end of "Taking My Life in Your Hands," the IA-7 maintained its firm grip on the tune and handled the jump in volume without introducing a trace of grain. On "I Almost Had a Weakness," the violins were crystalline on top and the cello was full-bodied underneath, as the NuForce demonstrated its ease within a discernible dynamic range, while keeping its focus in the middle. "Who Do You Think You Are" was sweet and lush, and the IA-7 conveyed "Jacksons, Monk and Rowe" with untroubled sincerity. All of this met rather than exceeded my expectations. At this point the IA-7 was performing admirably rather than exceptionally.
The Juliet Letters suffers a bit from a thinness and tepidness characteristic of the recording techniques of the 1980s that carried over into the early 1990s. I went back to Bob Marley and the Wailers' Burnin': Deluxe Edition [Island 335902] to try to mitigate some of Costello's digital-era sterility. So far the IA-7 had proven to be as remarkably quiet and cool-running as promised, but it wasn't until the Wailers spread their analog keyboards and loping reggae rhythms across the soundstage that the IA-7 demonstrated its ability to go deeper and wider than other solid-state electronics I've had in the listening room. I'm not certain whether the IA-7 had benefited from the break-in period, or if my ears had now adjusted to what had been there all along, but in "Put It On" and "Duppy Conqueror" the harmonies of Bob, Bunny, and Peter had never before sounded as three-dimensional and believable, their voices as lucid or as continuously liquid. "Get Up, Stand Up" made forward progress from its opening notes, and the melody contained in Family Man's powerfully authoritative bass before Tosh's vocal break was rendered with scorching intensity. The IA-7 drew me into the performance and allowed the fervor of the musicians to hold me there, particularly on "Burnin' and Lootin'," in which Bob Marley's vocal was articulate and threatening, and the backing track was clear and pitch-perfect.
Having discovered the IA-7's capabilities, I chose a recording of the moment for an amplifier of today: OutKast's Speakerboxxx/The Love Below [2 CDs, Arista 50133], which is really two solo albums packaged together. Big Boi's Speakerboxxx is the more conventionally hip-hop-inspired, while Andre 3000's The Love Below strays further afield to explore a variety of musical styles in a spirit of experimentation. The IA-7 infused Big Boi's "Ghettomusick" with all the slam and pace it demanded, and retrieved the sonic details of "The Way You Move" with focus and a clear delineation so that each element -- Big Boi's deep rap, Sleepy Brown's croon, the accents of the horn section -- was present in the sonic architecture of the recording. For Andre's part, the electronic pulse of his "Pink and Blue" came up from under, thanks to the IA-7's low noise floor, making for an impressive contrast with his crisp falsetto, while the transient speed of "Spread" was calmly dealt with and the sonic assault of "Hey Ya" was effortlessly powerful and controlled, as well as physically and emotionally engaging.
Comparison
The 50Wpc NAD C320BEE has dominated the category of entry-level integrated amplifier for good reason -- and not entirely because of its $399 price. It offers more inputs than you'll ever need (including a tape loop), a headphone jack, a remote, and a sound that expresses confidence in its ability to produce tight, impactful bass without ignoring the demands of a detailed and transparent treble. If anything, the NAD is a bit forward and aggressive, as if to say, "This is what I can do, and this is how I'm going to do it." I have the new version, the C325BEE, which retains the 320's price point but has its own patented technologies to handle dynamic extremes, and adds an MP3 jack to the front panel.
If quantity is a determining factor, the NAD has the edge in price and features. But the IA-7 drew me in with its natural expansiveness, lacking both the coloration of tubes and the sterility and unnatural sound of some solid-state gear. The remarkable ability of the analog switching technology to eliminate noise and distortion, along with its economical design and lack of heat, translated into playback through the NuForce that had flow, propulsiveness, and more inner detail than I'd heard before. And the IA-7's slim profile, light weight, and low ventilation requirements might be preferable to the NAD's typically sized and vented case of uniform battleship gray.
Conclusion
At $1495, the NuForce IA-7 integrated amplifier stretches the parameters of GoodSound!'s mission to report on "affordable" gear, and at first I was skeptical. When I hooked it up, I got horrible ground-loop interference that I didn't experience with the NAD. I isolated the noise to an S-video cable I was running from the DVD player, and when I switched to an RCA cable, the interference was gone. But it got the NuForce and me off on the wrong foot. I was also a bit put off by the soft but audible transient at turn-on -- it didn't harm my speakers, but, coupled with the ground loop, it made me suspect the soundness of the design.
I got over it. Ultimately, the NuForce IA-7 threw a taller, deeper soundstage than my Axiom M22s should have been physically able to produce. The amp sounded believably realistic, and offered a fortifying listening experience while going about its business with finesse and refinement, as exemplified by the fine gradations of its volume control. The IA-7 made noiseless, distortionless music regardless of sound-pressure level, exposing a variety of tonal colors that gave the music presence and authority, and it has been a trouble-free performer for several months. I can't imagine a listener needing more articulation or ambient purity than is delivered by the NuForce IA-7.
...Jeff Stockton
Price of equipment reviewed
---