June 15, 2009

Marantz PM8003 Integrated Amplifier

Marantz is a long-heralded name in hi-fi, dating back to the early 1950s. Despite some ups and downs over the years, the company has turned out some fine equipment, and the PM8003 integrated amplifier ($999.99 USD) continues that tradition.
At 17-3/8"W x 5-1/8"H by 15"D, the PM8003 is close in size to its companion SA8003 SACD player, and tips the scales at a hefty 26.5 pounds. It's rated to output 70Wpc into 8 ohms or 100Wpc into 4 ohms, its harmonic distortion rating is suitably low (0.02%, 20Hz-20kHz at full power into 8 ohms), and its power bandwidth is broad: 5Hz-60kHz at 0.05% THD into 8 ohms. Another good aspect of its design is a high (100) damping factor, which helps define and tighten the bass response of some speakers.
The front-panel controls are a nice compromise between the minimalist and kitchen-sink schools of thought. Two large knobs anchor either end, each nicely filling the hand. The left knob handles input selection, the right one the volume; between them runs a thin blue line of LEDs indicating which input has been selected. Just below the LEDs are two small pushbuttons, one of which, Source Direct, makes great sense: when depressed, it bypasses the amplifier's bass, treble, and balance controls, for those who believe that a preamp section should be no more than "a straight wire with gain." The purpose of the other button puzzles me. It's labeled Power Amp Direct; push it and the PM8003's entire preamp section is bypassed, including the volume control. Some folks may find this the handiest feature since the self-timer on a coffeemaker, but I find it odd that anyone would buy an integrated amp to use only as a power amp.
Across the lower third of the front panel are the usual control suspects: from left, a large power switch, a standard 1/4" stereo headphone jack, a rotary switch for controlling two pairs of speakers, the bass, treble, and balance controls, and the remote control's infrared sensor.
On the rear panel, gold-plated RCA jacks offer a complete array of inputs and outputs. At the top left are the inputs and grounding post for the discrete moving-magnet phono stage. Next to that are a set of Pre Out and the Power Amp Direct In jacks, for the easy insertion of some sort of processor or EQ. Below are inputs for CD, Tuner, and Aux/DVD, plus inputs and outputs for two recorders -- tape, cassette, CD, etc. The center of the rear panel is dominated by two sets of stereo speaker outputs. These appear to be designed to handle large-gauge bare wire, generously sized lugs or banana plugs, and protect all the speaker wiring from any possibility of short circuits. However, as the nuts are made of plastic -- good plastic, but plastic nonetheless -- I'd hesitate to tighten them with a wrench. I used banana plugs, which the PM8003's connectors held very firmly.
The included remote control is extremely versatile. Similar in design to that accompanying the SA8003 SACD player, it's large, long, and narrow, but well balanced, and even has a depression on its back at its balance point, a nifty and thoughtful design feature. All inputs are selectable from the remote either directly or via scrolling buttons. You can even switch Marantz input sources, such as CD players or tuners, from Standby to On via the Source Power control. The lower half of the remote allows direct access to individual cuts on a CD in a Marantz player, or tuning stations on a Marantz tuner. All in all, I found using the remote quite satisfying.
The PM8003 also uses Marantz's "low-noise, low-distortion filter circuits and high-speed HDAMSA2-type output amplifier with the differential input type HDAM," a double-shielded toroidal power transformer for less vibration, and "magnetic leakage flux." The phono preamp is located as far as possible from the power supply, also for lower noise. HDAM stands for Hyper-Dynamic Amplifier Module, a Marantz-developed substitute for the more common IC op-amps. The HDAMs use discrete surface-mount components that Marantz claims have less noise and better slew rates than the ICs they replace.
The interior of the PM8003 is another excellent example of modern electronic design. A large toroidal power transformer feeds substantial filter caps. Individual components such as the capacitors are at least a step above what's found in many hi-fi components. In all, I found the PM8003 to be well engineered and constructed.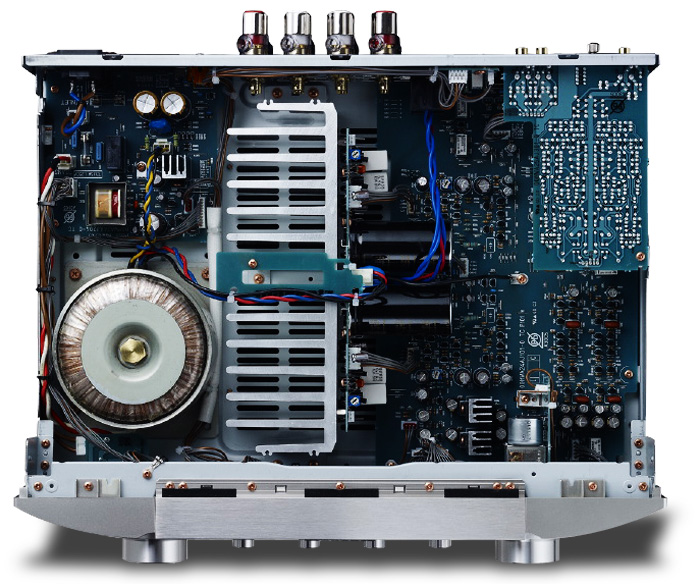 System
I connected the PM8003 to my primary source components: Dual CS-5000 turntable with Shure M97Xe or Grado Gold cartridge, Sony CDP-X303ES CD player, and Magnum Dynalab Etude FM tuner. Interconnects were Linn (CDP) and Straight Wire (tuner). I also took advantage of still having Marantz's SA8003 SACD player on hand. Comparisons were to my Linn Majik-1P integrated amp (33Wpc). Both amps drove my reference NEAR 50 Me II speakers or a recently acquired pair of mid-1970s Wharfedale W60E bookshelf speakers, all wired with 14-gauge AR cable. AC power comes from a dedicated circuit operating through a PS Audio Soloist in-wall power conditioner/surge suppressor. The listening room is 17'L x 11'W x 7'H, finished in drywall with makeshift wall treatments and cork flooring, most of which is covered by a 9' x 12' rug.
Sound
The first thing noticed when I switched from the Linn Majik-1P to the Marantz PM8003 was the latter's better control of the Wharfedales' bass. It was tighter and slightly more rhythmic. A lot of that may have been due to the high damping factor of the Marantz, or to the fact that it's more powerful than the Linn. The Wharfedales are reasonably efficient, but I can't biwire them as I can the NEARs. In any event, I really loved the combination of the Marantz and Wharfedales.
However, the Wharfedales are over 30 years old -- hardly the state of the loudspeaker art -- so I mostly listened via the more recent (mid-1990s) NEARs. The NEARs have a more prominent midrange than the Wharfedales -- it's almost horn-like -- but also tighter bass that digs deeper. On mids and highs, I give the Wharfedales the slight edge.
One thing that stood out right away was the quality of the PM8003's phono circuit. Among the reasons I purchased my Linn Majik in the mid-'90s was its silky reproduction of vinyl -- a great improvement over the phono section of my then-reference McIntosh C27. The PM8003 was the first amplifier I've had connected to my main system whose phono performance equaled the Linn's. So I concentrated on the vinyl side of my collection.
I've always loved Gordon Lightfoot's performance of "Me and Bobby McGee," from his If You Could Read My Mind (LP, Reprise RS 6392) -- but not just for the song. In particular, how the knee-slaps are reproduced tells me a lot about how a system handles subtle transients. And the Marantz handled them just fine. As well, the guitar and dobro parts seemed just a tiny bit cleaner.
There was one small drawback to the Marantz's phono section: it didn't seem to have quite as much gain as the Linn's. For playback above 80dB SPL, using the Grado Gold cartridge, the amplifier's volume control needed to be set to about 2:30. So if you like your music loud but have inefficient speakers, beware. However, even at the high volume-control position, noise was barely perceptible when the system was idle. Very nice!
For all its great production values, Paul Simon's "50 Ways to Leave Your Lover," from his Still Crazy After All These Years (LP, Columbia PC 35540), can sometimes present problems for an LP playback system, especially when Simon reaches for the high notes. These moments can cause a phono section to overload, but that was definitely not the case with the Marantz. And the soundstaging was excellent: good depth, good breadth, good placement of instrument images.
Simon's former partner, Art Garfunkel, also plays a role when I'm listening to LPs. One of my favorite performances of his is "Finally Found a Reason to Live," from Fate for Breakfast, Doubt for Dessert (LP, Columbia JC 35780). It's a fabulous recording, with Garfunkel's ethereal voice and a very upfront steel-string acoustic guitar taking the foremost parts. The guitar was vibrant through the PM8003, while the layers of sound in the choruses (front to back: Garfunkel, backing singers, instruments, percussion) were stable and natural.
The instrumental section that ends Linda Ronstadt's recording of "You're No Good," from her Heart Like a Wheel (LP, Capitol ST-11358), plays almost like the soundtrack of a horror flick, the violins holding one note as the guitar plays a somewhat eerie melody, the whole thing building to a climax. Played through a really good system, it can make the hairs on your neck stand up, and the Marantz PM8003 came as close to doing so as any amp I've had in recent years. There was also a good rhythmic sense from the instruments.
After I thought I'd given the phono section a good trial with the above LPs and more, I played some CDs, beginning with my usual first-up, Fourplay's "Bali Run," from Fourplay (CD, Warner Bros. 26656-2). Having more than enough power is always a good thing for a music system, and this track showed that the Marantz was quite capable of driving my speakers loudly and tightly. The PM8003 offered a good deal more slam -- really strong rhythmic patterns -- than the Linn. Part of that may have been the Marantz's greater power, but it also may have been because the Linn sounds more polite. I'd place the Marantz in between the Linn (polite) and the Rotel RA-1062 (rorty).
Diana Krall's cover of "This Can't Be Love," from Steppin' Out (CD, GRP 9825), was recorded before she was turned into a torch singer. This album swings nicely, showing off Krall's considerable piano talents, alongside John Clayton on bass and Jeff Hamilton on drums. Again, the Marantz provided just a little more vibrant performance than the Linn, although both sounded very fine.
Conclusion
The Marantz PM8003 is a fine amplifier! It has all the inputs and outputs you could want, and delivered sound as good as anything I've heard for the price. While I love my Linn Majik-1P, the Marantz PM8003 tempted me very strongly. It's that good. Definitely an amplifier for the short list.
. . . Thom Moon
Price of equipment reviewed