---
Energy XL-150 Loudspeakers
An anechoic chamber is a room whose walls are lined with foam wedges designed to eliminate all room reflections and outside interference. It's a bit more complicated than that, but such a space provides an environment in which you can take accurate sound measurements without interference from outside sources, or the room itself. Energy, a subsidiary of Audio Products International, was one of the many Canadian firms that benefited from research in the Canadian National Research Council's (NRC) anechoic chamber in Ottawa.

This gives you an idea of the science behind the designs that Energy builds. While the final voicing of a speaker is still partly art, Energy uses science and research to help them get there. How a speaker behaves in the anechoic chamber can help Energy predict how that speaker will behave in the average listening room. If you think measurements aren't important, think about the impact a severe dip in frequency response can have at your listening position. By taking numerous frequency-response measurements, both on- and off-axis, it's possible for Energy to predict fairly accurately how the total output will come together in a typical room. This kind of information can be extremely useful in designing a speaker that will reduce the effects of room interactions.

Just looking

At $200/pair USD, the XL-150 is the least expensive speaker in the Energy line. For that relatively low price you get two exceptionally attractive speakers. The review samples came in Energy's finish of Canadian maple laminate with a silver baffle; they were two of the most attractive budget speakers I've ever had the pleasure of reviewing. I've seen some real-wood-veneer speakers that didn't look as nice as these.

The XL-150 is small: 7.9 pounds, 9.8" high, and 5.9" wide, but, at just over 9", a bit deeper than one might expect from a speaker of this size. The cabinets are made of MDF, the aforementioned laminate wrapping everything but the front baffle. The computer-designed silver baffle is made of a copolymer that Energy calls e:XLite. Energy claims that the baffle is designed to be rigid, and to reduce diffraction effects and resonances. The front face of the XL-150 is covered by an equally attractive silver grillecloth contoured to match the baffle. The grillecloth is held on by four plastic pins that insert into rubberized holes in the lower half of the baffle. They take a bit more effort than normal to remove and attach, but they hold the grille firmly in place.

The baffle is stepped, the tweeter mounted on a plane forward of the woofer, rather than the more common arrangement of a recessed tweeter. The driver complement comprises a 0.75" aluminum-dome tweeter with textile suspension and a 5.5" injection-molded woofer. The frequency response is listed as 60Hz-20kHz, the crossover point as 2.2kHz. Both drivers are shielded; this speaker can be placed close to a TV. Efficiency is rated at 90dB "in-room" for the pair, with an impedance of 8 ohms. This should make a pair of XL-150s easy enough to drive for most any modern solid-state amplifier. Around back you'll find a port for enhanced bass response and a pair of all-metal, gold-plated binding posts capable of accepting dual banana plugs, bare wire, pins, or spades.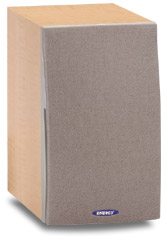 The XL-150s were set up in my main listening room on 24" stands, which put the tweeters right at ear level. Most well-behaved speakers sound best in this room separated by slightly less distance between each other than the distance to my listening chair, and the Energys were no exception. I tried other arrangements, but came back to my standard setup. I tried the XL-150s pointing straight ahead and toed-in toward the listening position, and quickly settled on the toed-in arrangement. As expected, the sound wasn't overly dependent on placement and was acceptable from virtually all speaker placements and listening positions I tried. A little science is a wonderful thing.
I used the Energy XL-150s with an Onkyo TX-DS696 receiver and a Sony DVP-NS755V DVD player.
Listening
Lately, I've been doing a fair amount of listening to Cassandra Wilson's Traveling Miles [Blue Note 54123]. While this may not be the critics' favorite example of her work, it offers a handful of interesting interpretations, something at which Wilson is particularly adept. In "Right Here, Right Now," the marimba seemed to come from deep into the room, and the soundstage extended to just beyond the speakers' outer edges. The soundstage width was a bit tighter than with many other speakers I have on hand, but the little Energys displayed surprising depth and managed to entirely disappear, which is no small feat.
Another CD that's spending a great deal of time spinning around inside my CD player is Patricia Barber's Modern Cool [Blue Note 21811]. On "Postmodern Blues," the speakers completely disappeared again, and the soundstage was significantly wider than it had been with other tracks, matching other speakers I had on hand. I noticed that female vocals seemed to recede ever so slightly into the background on this CD and on Traveling Miles. Speaking of lower frequencies, the XL-150 produced an admirable amount of bass on this track, belying the speaker's small size.
Another vocal favorite is Jennifer Warnes' The Well [Sindrome 8960]. Her higher-pitched voice didn't sound as recessed through the Energys as those of Wilson and Barber. In a truly wonderful interpretation of Arlo Guthrie's "Patriot's Dream," Warnes is joined by Guthrie himself. My instant reaction was that Guthrie actually sounded a bit more like Willie Nelson. Fearing it was a fault in the speakers, I switched over to my reference speakers (Silverline Sonatinas) and played the track again. Never mind -- Arlo really does sound like Willie on this cut. The XL-150s were doing their job superbly.
Fleetwood Mac's Say You Will [Reprise 48394-2] is the band's first studio album in 16 years that features both Lindsay Buckingham and Stevie Nicks. But Christine McVie is absent, and it's never quite Fleetwood Mac without her. Still, it's a decent album that evokes memories of the complete group -- just don't expect another Rumours. The XL-150s did a nice job of disappearing into the background on the title track but, again, Stevie Nick's voice was a bit recessed. However, they displayed excellent imaging, with just a touch of soundstage depth. Bass response was again well-defined, and I'm thrilled that Energy has again resisted the temptation to boost bass output at the expense of accuracy. The XL-150 may not go that low, but its bass never sounded exaggerated, as it does on so many small speakers.
Pink Floyd's The Wall [Capitol 31243] is generally well-recorded, if not quite up to the standard of Dark Side of the Moon. The XL-150 displayed surprisingly good transient response at the opening of "Is There Anybody Out There?" The real treat was the excellent imaging and sound of the creaking door at the opening of "Waiting for the Worms." My dog, who normally goes crazy when somebody comes in the house, tore off for the front door, barking the whole way. Yes, my front door creaks and the hinges should be lubricated, but that might deactivate a perfectly good alarm system.
While Telarc's recording of Tchaikovsky's 1812 Overture [Telarc 80041] is best known for its woofer-killing cannon blasts, I tend to prefer Capriccio Italien. The XL-150 got the tone right, with just the right amount of warmth to the strings. Many speakers, especially budget models, get the tone too bright or too dull. Getting the tone just where it's supposed to be is an exercise in skill and patience, and the Energy delivered.
Comparison
The nearest competitor I had on hand was the $328/pair Ascend Acoustics CBM-170. The Ascend has a cleaner, more forward sound, and its upper octaves are brighter and more open than the Energy XL-150's. In contrast, the XL-150 presented a warmer, more laid-back sound. The bass provided by each speaker is tight and articulate, but don't expect either to excel at heavy rock or organ music. While both do a reasonably good job down to 60 or 70Hz, neither is capable of producing serious bass output on its own. That's to be expected from any minimonitor; attempts to produce much low-frequency energy from a small system typically end up with a bass response that's the musical equivalent of mush. If you really crave deep bass, buy a subwoofer.
The Ascends are somewhat more detailed, but the Energy XL-150 was much more forgiving of typically bright and harsh budget electronics. While the Ascends sound great with many higher-end amplifiers and most mid-fi receivers, they're capable of highlighting the deficiencies of lesser electronics. I recently found the Ascends to be surprisingly edgy with a widely respected budget receiver I had around the house. Just out of curiosity, I switched to the Energy XL-150s and found them to be much more engaging with this Big Box special. Which speaker I would prefer would depend largely on what electronics I was teaming them with.
Then there are cosmetics. I know some of you will say that the look of the speaker doesn't matter, but I'd be willing to bet that the vast majority who are of that opinion aren't married. Suffice it to say that my wife vastly prefers the looks of the Energys over those of the Ascends. I've had both pairs sharing space in the same room for the last few months, and I agree with her. The XL-150 is a very attractive speaker.
Conclusion
The Energy XL-150 is a strong competitor in an incredibly tough price class. It does nothing overtly wrong, and a great many things right. While it's not the most detailed speaker in its class, it's friendly to the frequently harsh realities of budget electronics. Add to that its more than reasonable price and class-leading cosmetics, and the Energy XL-150 is a speaker that should find a happy home with many shoppers.
...Jeff Van Dyne
Price of equipment reviewed
---