---
Athena Technologies Audition AS-F2 Loudspeakers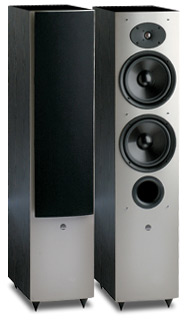 On a few occasions, humanity has come close to achieving its quest for technological perfection. Consider the 1964 Mustang, for instance: a stylish, affordable bundle of muscle that appealed to both sexes. The car was an instant success and is today a collector's item that gets rolled to vintage auto shows for gearheads to admire and sigh over.
In 20 years, perhaps, Athena's AS-F2 speakers might receive the same tender treatment from fans of affordable loudspeakers. The Canadian manufacturer, Audio Products International, which also makes Mirage and Energy gear, has consistently given people budget-priced speakers with price-is-of-no-concern quality. The AS-F2s, the flagship speakers in Athena Technologies' Audition series, continue that remarkable tradition.
First glance
Standing three-and-a-half feet high and weighing in at 51 pounds each, the Athena AS-F2s command attention: quality speakers costing $599 a pair are often consigned to bookshelves. Lots of manufacturers simply haven't figured out how to give consumers a good, substantial pair of floorstanding speakers, like the AS-F2s, without sacrificing quality. Sure, there are lots of great bookshelf models at $599 per pair that are well worth the money, but some of us are looking for more bass-bang for our buck than those diminutive speakers are typically able to deliver. Naturally, we don't want our midrange or highs to be thin or edgy, either -- we're a picky lot.
In an effort to make sure a lot of us choose the AS-F2s, Athena packed dual 8" polypropylene, injection-molded woofers with 1" voice coils and rubber surrounds (the flexible, half-round connecting material between speaker cone and frame), and a 1" Teteron (man-made silk) dome tweeter into these speakers. The AS-F2s are also magnetically shielded, which means that they're safe for use next to your television, should you decide to use them as the front speakers in a home-theater system. In fact, the Audition series includes surrounds, a subwoofer, and another floorstanding model, the AS-F1, as part of this speaker range. We're focused on these top-of-the-line AS-F2s, which are well suited to two-channel systems as well as movie-watching applications. And in case you're keeping track, Athena says the AS-F2s have a frequency response of 35Hz to 20kHz (+/- 3dB) and 93dB sensitivity.
First listen
I like my first listening experience with a new set of speakers to get the blood boiling, to see if the new boxes are capable of getting my rock'n'roll heart pounding just a little bit harder. So I chose to break the AS-F2s in with some selections from the monstrous British metal Best of the Beast [Castle 124-2] double-CD packaging of Iron Maiden's most memorable musical onslaughts. Sliding the first disc into the NAD C521i CD player, hooked into the two-channel system with the Vasant GA-120S Final Edition 0.1 amp, brought the rambunctious "Bring Your Daughter to the Slaughter" to my eager ears. The tune was once given a Golden Raspberry for Worst Song of the Year, but this oh-so-silly bit of fun hyperbole showed that the Athenas were more than capable of delivering aggressive and full -- but not boomy -- bass, as well as detailed guitar wankery with a naturalness and ease one might reasonably expect from speakers costing two, three, even four times the asking price of the AS-F2s.
Right out of the box these speakers delivered transparent, neutral sound with natural, warm bass on a wide variety of musical selections, and frankly, they don't need an extended break-in like so many do. Sure, the bass extends a bit and becomes slightly fuller over time, and the highs are palpated just a bit more gently after a couple dozen hours of breaking in, but the AS-F2s are ready to go as soon as you can get 'em set up. It isn't just the highs and lows -- the most difficult ends of the musical spectrum for speakers to deliver accurately -- that are superb once released from the confines of the cardboard boxes: the Athena's well-defined, quick midrange excels from the get-go, too. This was made abundantly clear when trying them out with chamber music.
They handled the "difficult" music of Kronos Quartet's Early Music from 1997 [Nonesuch 79457] with ease. Medieval French composer Guillaume de Machaut's darkly eerie "Kyrie I" is a short burst of melancholy propelled by Joan Jeanrenaud's mournful cello; it was resonant and without the overly warm coloration too often a part of the affordable-speaker oeuvre.
Other "difficulties," such as the Miles Davis/Gil Evans landmark reinvention of Porgy and Bess [Columbia Legacy CK65141], were delivered with equal measures of transparency and detail. Danny Banks' haunting alto flute solos provided a chance for the Athenas to reach up and up, but his lyrical passages never floated outside the sure grasp of the speakers. On this exquisitely recorded CD, the flute was never bright or metallic sounding, but was consistently natural and fluid in tone. The bass and tuba duet romping and bobbing through "Buzzard Song" is more evidence that these full-range speakers are just that: they reproduce those lows with the very same clarity and detail one hears in the midrange and highs.
The solemn tenderness of Samuel Barber's "Adagio for Strings, Op. 11" was never meant to be considered an elegy, but after it was played at President Franklin Roosevelt's funeral, a whole generation of Americans would forever hear it as such. The sweeping string section of the New York Philharmonic, as conducted in this recording (Club Verboten [DCC DZS4-135]) by Leonard Bernstein, can be broken down by the listener. The violins are quite distinct from the cellos, for instance, even as the instruments swell and ebb together; the speakers were more than capable of coping with the immensity of sound in the piece, never blurring instruments near each other in tone. The only minor caveat here would be that, at times, the sound might be considered by some to be slightly warm, though hardly excessive or overly distracting.
Other voices
Clearly, the AS-F2s are capable of meeting all sorts of instrumental challenges, but are they able to faithfully reproduce the most fascinating instrument of all: the human voice?
Country singer Dwight Yoakam's nasal twang can be like the proverbial fingernails on a chalkboard to some, but to me, his lonesome voice has a perfectly piquant quality that makes me want to drown my sorrows, whether I have any at the moment or not, in an aluminum can full of cheap American beer. His "I Sang Dixie" (Reprise Please Baby: The Warner Bros. Years [Reprise/Rhino R2 78100]) is a despondent beauty nicely suited to our voice-reproduction testing needs. The Athenas gave that twang to me with an unaffected purity that I hadn't heard since the last time I saw the hillbilly deluxe in concert.
The same goes for the fiddles and steel guitar mourning at Yoakam's side in the song; they're so real-sounding and immediate, one's tempted to reach out and pat Tom Brumley on the back for a job well done.
One of our last purely musical investigations involved a guilty pleasure: the mostly forgotten bubble-glam of T. Rex. I cranked the Athenas up to 1972 T. Rexstasy levels appropriate for making the neighbors' ears bleed in order to groove on Marc Bolan's "Metal Guru," "Telegram Sam," and "Spaceball Ricochet" from Chronicles' remastered edition of The Slider [314 534 355-2]. Once again, low-bass extension and definition, as well as high-level dynamic articulation, were superb. The soundstage these speakers presented on the glam thunder was as wide and deep and articulately defined as it had been on the previous recordings.
Other rooms

Athena Technologies Audition AS-F2 Loudspeakers
Satisfied that the AS-F2s had met all the musical challenges hurled at them, I moved 'em from my listening room to the living room in order to give them a brief, though vigorous workout on home-theater material.
From the opening of Enemy at the Gates, shocking scenes of the epic madness that was war-torn Stalingrad during World War II, tested the Athenas. The AS-F2s presented explosions, screams, and gunshots with startling realism (realistic, at least, from the perspective of someone who has only seen war in movies), all backed by James Horner's soaring score.
Similarly satisfying aural experiences were enjoyed when watching DVDs of The Rocky Horror Picture Show, Quills, Raising Arizona, and a number of others varying in their demands on the speakers.
A comparison
I recently had the pleasure of auditioning the Magnepan MMG speakers and decided that they would be perfect for head-to-head comparison, since the two sets of loudspeakers carry nearly identical price tags.
At this price point the Maggies are without peer at reproducing the high end of the musical spectrum, but the Athenas nearly matched their precision, detail, and transparency. They fell just a tad short in these areas. Where they bested the Maggies, however, was at the opposite end of the aural palette. The Athenas' depth and timbre down to the 30Hz to 40Hz region is not only better than what the Magnepans can deliver, but better than the bass extension most speakers costing well over $1000 will give you.
Conclusion
Athena Technologies' AS-F2 floorstanding loudspeakers are more than just affordable; they're truly superb speakers that would enhance just about any stereo system. Because they're so transparent, however, I'd urge you to add them to a system with a good-quality CD player (and/or DVD player), as well as an amp capable of doing them justice. It would be a shame to muddy their engaging, intimate midrange, and extraordinary high-level dynamics and bass extension with components incapable of delivering the articulate musical muscle of the Athenas. These speakers are highly recommended.
Price of equipment reviewed
---